October 4, 2023
Tech Center Open House Dates Announced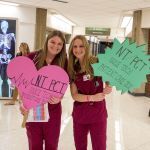 Prospective students are invited to the annual Kent Career Tech Center open house, February 7 & 8, 2024.
The event is open to students 7th grade and up and their families. Classrooms will be open and current students and faculty will be on-hand to answer questions and give tours.
Enrollment for the 2024-25 school year begins in February. Classes are open and free for 11th and 12th grade students in Kent County. Students who would be new to KCTC should contact their school counselors for enrollment information.
Offering nearly 30 programs to choose from, the Kent Career Tech Center has something for everyone. With industry certifications, internships, college credit opportunities and fully equipped labs with the latest technology, the Tech Center is the place to assist students in preparing for whatever comes next.