Phil Cumings - Instructor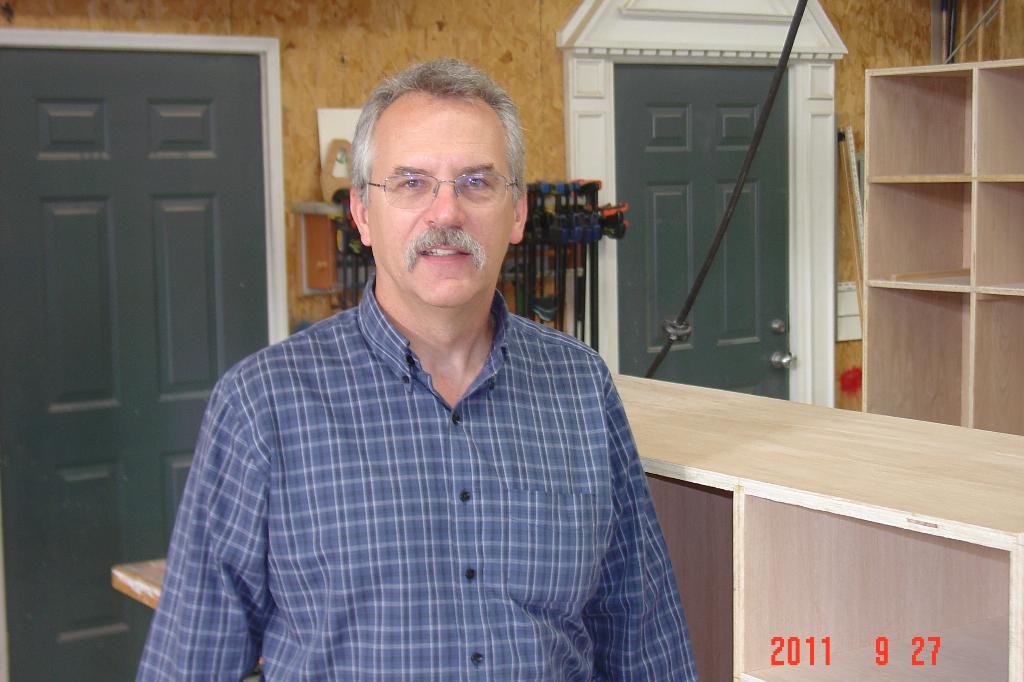 Hello, I am Mr. Cumings.
I have been with KCTC for over twenty-two years, the past nineteen as an Instructor in the Applied Construction Program.
As early as the young age of four, I have wonderful memories of going to residential job sites with my father, Vernon Cumings. Often my father would set me up with some wood scraps, a hammer and some nails, so I could build a little sailboat, or try as I might to make some kind of little house or garage. Cumings Construction was the name of his business. He also sold and installed swimming pools and spas. I greatly admire my parents, as they both modeled great character traits such as responsibility, hard work and respect.
I have three older sisters and two older brothers. All of them are married with children. One of my brothers has been in the construction industry all of his life. He is a job site superintendent and has done work at places such as Spectrum Health and many other sites, as well as sites in California, Florida, Texas and Louisiana.
I have been married for thirty-four years and have three adult children, two son's-in-law, (one of them served six years in the U.S. Army), and a daughter-in-law. Our son served five years in the U.S. Navy Construction Battalion, (U.S. Navy SeaBees). We have three grandchildren. I am thankful for my family and am proud of each one of them.
My hobbies and interests include:
Being with and helping family and friends
Hunting and fishing
Reading about great historical leaders, the out-of-doors and WWII accounts
Going NORTH and exploring
Industry Credentials:
Builders License, State of Michigan
Commercial Drivers License, State of Michigan
Industry Experience:
Residential Construction, Install and Repair of In-ground Swimming Pools and Spas, Cumings Construction and Pleasure Pools, Sparta, MI, 16 years and Tim Paulson Builder, 1 year
Commercial Construction, including Carpentry, Concrete (Poured in place and Precast), Red Iron, Operator of Heavy Trucks, Dump Truck, Backhoe, Pettiebone and other equipment, Johnson Construction, Grandville, MI, 4 years
CAD Operator, Integrated Architecture, Grand Rapids MI, 2 years
Education Credentials:
Sparta High School Graduate 1976
Grand Rapids School of the Bible and Music, Diploma and Private Pilot License 1979
Career and Technical Education Ferris State University 2002 BA
Career and Technical Education Western Michigan University 2009 MA
Chris Battle - Instructor

Background prior to teaching:
Journeyman Carpenter in the Michigan Regional Council of Carpenters Local 100
Licensed Residential Builder
Commercial Concrete Construction
Industry Credentials
Builders License, State of Michigan
Commercial Drivers License, State of Michigan
Education
Ferris State University Associates in Applied Construction, 1990-1992
Central Michigan University, Bachelor of Industrial Arts, Major, Minor 1995-1997
Lance Doddy - CTE Specialist

Background prior to Teaching
Journeyman Carpenter in the Michigan Regional Council of Carpenters - Concrete, Drywall, Scaffolding, Doors and Door Hardware, Trim
Trim Carpenter - Tiara Yachts
Industry Credentials
OSHA 10 & OSHA 30
Various certifications through the Carpenter's Union
Education
Whitehall High School
Muskegon Community College - Associates in Applied Sciences Automotive Technologies
Grand Valley State University - Bachelor in Integrated Sciences / Elementary Education
Jeremy Petersen - CTE Specialist

Background prior to Teaching
Owner/Co-Owner Petersen Builders and Design-19 years
Construction Tech- Amway Facilities Maintenance- 3 years
Industry Credentials
Builders License, State of Michigan
Facilities Manager- Certificate, Ferris State University
Education
B.S. Business Administration, Major: Management- Central Michigan University
Assoc. Architectural Technology- Ferris State University