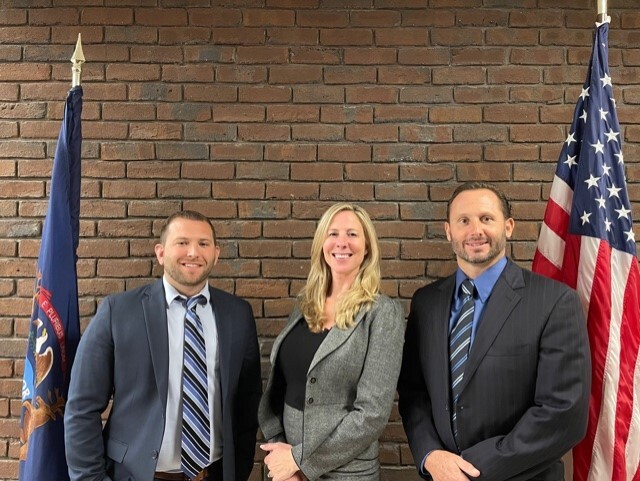 From left to right: Mr. Ben Hawkins, Ms. Colby Wheeler, Mr. Gregg Isenhoff
Ms. Colby Wheeler
Colby Wheeler is a Michigan native. She was born in Marquette, but has lived in West Michigan most of her life. Ms. Wheeler graduated from Grand Valley State University with a bachelor's degree in Criminal Justice in 2001. She received her master's degree in Career Tech Education from Western Michigan University in 2018.
Ms. Wheeler began her law enforcement career as a Kentwood Police Officer in 2000. She served as a patrol officer until 2007, when she was promoted to work as an undercover narcotics detective on the Metropolitan Enforcement Team. She received numerous accolades during her career, including two certificates of appreciation for actions at the scene of a shooting of a fellow officer and for the recovery of a large volume of illegal drugs and guns. Ms. Wheeler retired from the Kentwood Police Department in 2013 to pursue a career in teaching. She was a CTE Criminal Justice instructor in Ludington from 2013 until 2016 when she came to the Tech Center.
Mr. Gregg Isenhoff
Gregg Isenhoff graduated from Grandville High School, then Grand Rapids Community College and the police academy. In 1999, he became an officer with the Kentwood Police Department where he spent the majority of his law enforcement career. During that career, he was an instructor in several specialized areas, was part of the Metro Police Honor Guard and was a DARE officer. He also received an Excellence in Policing Award for the apprehension of an armed robber and a Certificate of Appreciation for professional actions at the shooting of another officer.
Mr. Isenhoff began teaching at KCTC in 2011, and retired early from the Police Department. Since then, he's completed his bachelor's degree in Criminal Justice from Ferris State University and a master's in Teacher Leadership from Central Michigan University. He has also been head negotiator for the teacher's union, an educational consultant helping new teachers with classroom management and curriculum development, and an adjunct professor for GVSU teaching Police Process.
Mr. Ben Hawkins
Ben Hawkins is the newest addition to the Criminal Justice program. He served as a Grand Rapids Police Officer from 2008-2019. Mr. Hawkins was a community officer for 8 years and a Police Sergeant from 2017-2019. He also has experience as a dispatcher, field training officer, explorer advisor, CAD Instructor, and implicit bias trainer.
Mr. Hawkins graduated from Grand Valley State University in 2010 with a BA in Criminal Justice.
During his service as a police officer, Mr. Hawkins earned several achievements awards, team performance awards and was nominated Police Officer of the Year in 2015. In addition, Mr. Hawkins received the Police Medal in 2017, the highest award that can be granted to a living officer.