June 21, 2023
Kent Career Tech Center's Adrianna Lynn Receives Fulbright U.S. Teacher Award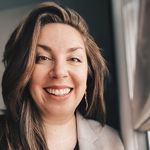 GRAND RAPDIS, MI – Adrianna Lynn, a Teacher Academy Instructor at the Kent Career Tech Center, has received a Fulbright Teacher Exchange award to the United Kingdom for the 2023-2024 cycle from the U.S. Department of State and the Fulbright Foreign Scholarship Board.
"I'm an educator because I love people, because I love my family, and because I want to pass on a standard of justice, compassion, curiosity, and progress as my legacy. I hope to leave my little space of the world just a bit better than what it was, and I am beyond honored to participate in such a program, representing my family and community," said Adrianna Lynn.
"We are very excited that Adrianna has earned this outstanding opportunity to participate in the Fulbright Program. As an exemplary educator, she will definitely be able to maximize this experience to positively impact any educational institution she engages with through this experience," said Joe Lienesch, principal of Kent Career Tech Center.
The Fulbright Program is the U.S. government's flagship international educational exchange program and is supported by the people of the United States and partner countries around the world. More than 800 teachers, artists, and professionals from all backgrounds teach or conduct research overseas through the Fulbright Program annually.
Lynn is an instructor in the Tech Center's Teacher Academy program where high school students from throughout Kent ISD learn foundational skills to become successful educators. Students practice these skills alongside veteran mentor teachers in classrooms in local districts. Lynn plans to return to Teacher Academy instruction after her Fulbright experience.
Please direct media inquiries to Joy Walczak, Kent ISD Communications Specialist at joywalczak@kentisd.org or 906.632.6290.