February 17, 2023
KCTC Launches Mobile App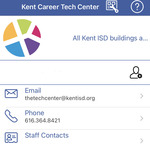 New mobile app designed for students and families.
The Kent Career Tech Center has launched a new mobile app to give students and families better access to school news, links and alerts.
You can download the app at TheTechCenter.org/App. The app is available on Apple and Android devices and is also available for web browsers. Users can also sign up for email and text notifications without downloading the app,
Students can log in to the app with their Tech Center email credentials. Parents can set up an account for themselves directly on the app.