Page Style Guidelines
These guidelines will help with ADA Compliance (Section 508) and help make your website easier to consume by all site visitors.
What is ADA / 508 Compliance?

Individuals with disabilities can access all the content on your website

Blind or Low Vision, Deaf or Hard of Hearing, Physical Disability and Cognitive Disability.

Use Assistive Technology (AT) to help them consume your website content such as a Screen Reader
Page Outline Approach
Allows screen readers to provide an outline of the content on the page - makes it easier for user using AT to find content of interest.
The Page Title (H1) should only be used 1 time on a page.
Use headings to outline the content on the page.
Scanability - Left Justify Content
To make the page easy to scan - always left justify text and headers. This keeps the eye from jumping back and forth on the page, making it much easier for the reader to absorb the information on the page.
Links To Documents

Link text should be Unique and Descriptive - should make sense out of context

properly describes the link destination.
Avoid 'click here'
Graphics / Photos
All images require an "Alt tag" : Alternative Text Description
If image is decorative the Alt tag can be "" (blank)
You will see the "Alternatve Text" option when adding photos
Page Content
Photo Gallery
Spotlights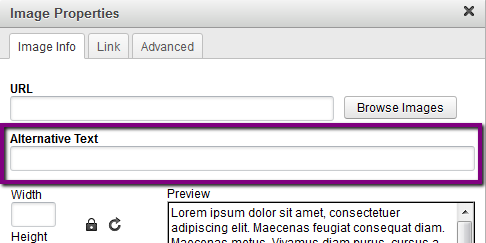 Info Graphics Requirements
If you use graphics to convey information, you will need to provide the information in an alternative manner that can be understood by visually impaired persons.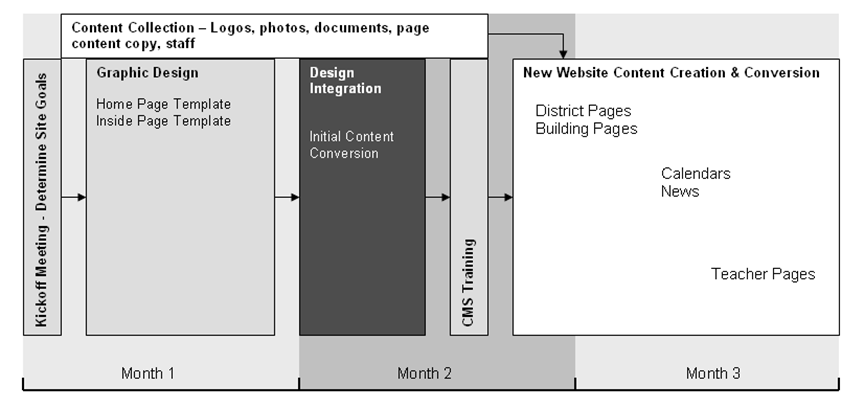 Font Colors and Sizes
Your website has been designed with specific font sizes and colors to promote uniform content across the website. These colors and sizes are proportional and should be used at all times. All content should be formatted using the styles specific to your website that are available in the format drop list. This will promote a very professional looking website.
Bolding Text
Use bold text if you want something to stand out. Please use it sparingly so it does not lose its affect. If everything is "bold" on the page, nothing will stand out.
ALL CAPS
DO NOT USE ALL CAPS IN PARAGRAPH CONTENT. ALL CAPS IS TAKEN AS A FORM OF "SHOUTING" AT THE READER. ALWAYS USE MIXED CASE FOR ALL CONTENT AND THEN APPLY THE FORMAT STYLE. SOME OF THE HEADING STYLES MAY AUTOMATICALLY BE IN ALL CAPS.
All Caps
Do not use all caps in paragraph content. All Caps is taken as a form of "shouting" at the reader. Always use mixed case for all content and then apply the format style. Some of the heading styles may automatically be in all caps..
Italics Text
Italics text is hard to read on a web page and should be avoided.
Italics text is hard to read on a web page and should be avoided.
Underlining Text
The reader has been conditioned to think that underlined text is a hyperlink. It is important to consider this when wanting to emphasize text in a paragraph.
It is recommended to bold the text instead of underlining it. Readers will sometimes be confused or think a link is broken.