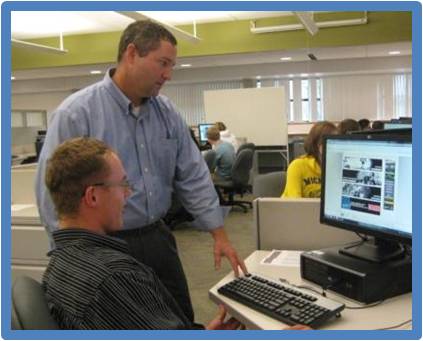 Meet Our Instructor
As an instructor at The Kent Career and Technical Center for 20 years, I've been very fortunate to work with students from diverse backgrounds, cultures, and experiences. This has allowed me to further my education daily, as I attempt to pass along to students the knowledge I've gained from our local economy, my consumer experiences, past employment in the retail world, and post secondary courses.
Marketing and business is ever-changing and therefore makes for interesting class discussions and lessons to learn. Using our daily experiences and observations, marketing provides students the necessary foundation to become future business leaders. Simplified into easy-to-understand language, marketing is the building of trustworthy relationships. I've enjoyed building those relationships with business professionals, past professors, and with current and former students. Connecting with students on LinkedIn years after they have graduated is very enjoyable, as I am able to discover the amazing experiences they have had, and careers that they have pursued.
My educational experiences have been in a variety of retail, service, and business facilities, and combined with my education at Central & Western Michigan Universities, I feel very privileged to work with today's students to share what I've learned along the way.
Davenport University: Sport & Entertainment Marketing & Corporate Creativity - Additional Credits.
Western Michigan University: Master of Arts in Education, Technical Education - CTE, 2001 - 2003
Central Michigan University: Marketing & Business Education, 1989 - 1994
High School: Okemos H.S. - Okemos Michigan (1989)
My wife (Sarah) has taught in the Grandville Public Schools for 20 years, and our three daughters (Naomi 21, Ellie 15, and Kayla 12) all have enjoyed their educational experiences provided in the Grandville community. During the summer months, we enjoy traveling together and have explored various state and national parks through camping and hiking. In the summer of 2015 we spent over a month touring Colorado, Utah, Wyoming, and South Dakota. The scenary is well worth the effort to get there, and staying in a cabin at the top of 11,400 foot: Red Mountain Pass is an experience I'll never forget.
Interests include: kayaking, fishing, sailing, soccer, camping and hiking our state & national Parks, our three current labrador retrievers (Maya, Benzi, Oakley), and our gone, but not forgotten labs (Dakota and Gracie).
If you have any requests for program information, please don't hesitate to contact me at: kirkhelferich@kentisd.org