Hi, my name is Clint Conley and I teach Pharmacy at KCTC. My students learn to perform the duties of a pharmacy technician and have the opportunity to become Certified Pharmacy Technicians. I love teaching this class because it allows me to bring the knowledge of a career I enjoyed to a new generation of health care professional, matching young minds with the first steps towards their future.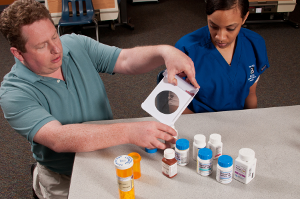 I have two children, one in college and another in 7th grade. My wife is also a teacher at Forest Hills, so we eat, sleep and breathe education in my household. I bring to my students many years of experience as a Pharmacy Technician at Dartmouth Hitchcock Medical Center and Munson Medical Center in Traverse City.
I think KCTC is a great change of pace from the typical school environment because my students have the opportunity almost every day to step away from the desk and actually perform medical procedures, gaining experience that they can take with them to their careers in healthcare.
<div data-iframe-width="150" data-iframe-height="270" data-share-badge-id="80d151eb-0a16-4610-90fa-0118fce62879"></div><script type="text/javascript" async src="//cdn.youracclaim.com/assets/utilities/embed.js"></script>