Hello I'm Mr. Pekrul.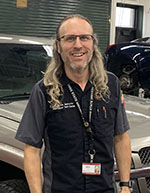 I have been teaching at the Tech Center for 16 years.
This semester I am Brakes and Manual Drivelines.
Automotive Industry Credentials:
· State of Michigan Master Automobile Technician
· ASE Master Technician
· P2 Automobile Parts Specialist
· C1 Automobile Service Consultant
· X1 Exhaust System Specialist
· G1 Auto Maintenance &. Light Repair
Education Credentials:
· Kent Skill Center Automotive Technology Graduate 1986
· A.A.S. Automotive Service Technology Ferris State University 1988
· B.S. Technical Education Ferris State University 2003
· M.A. Career and Technical Education Western Michigan University 2009
Industry Experience:
· Technician Sharpe Buick Grand Rapids MI 7 Years
· Master Lexus Technician Harvey Lexus Grand Rapids MI 7 Years
Other Interests
· I'm married with two kids.
· I like sailing and racing my mountain bike.
If you have any questions about the program email me at mikepekrul@kentisd.org