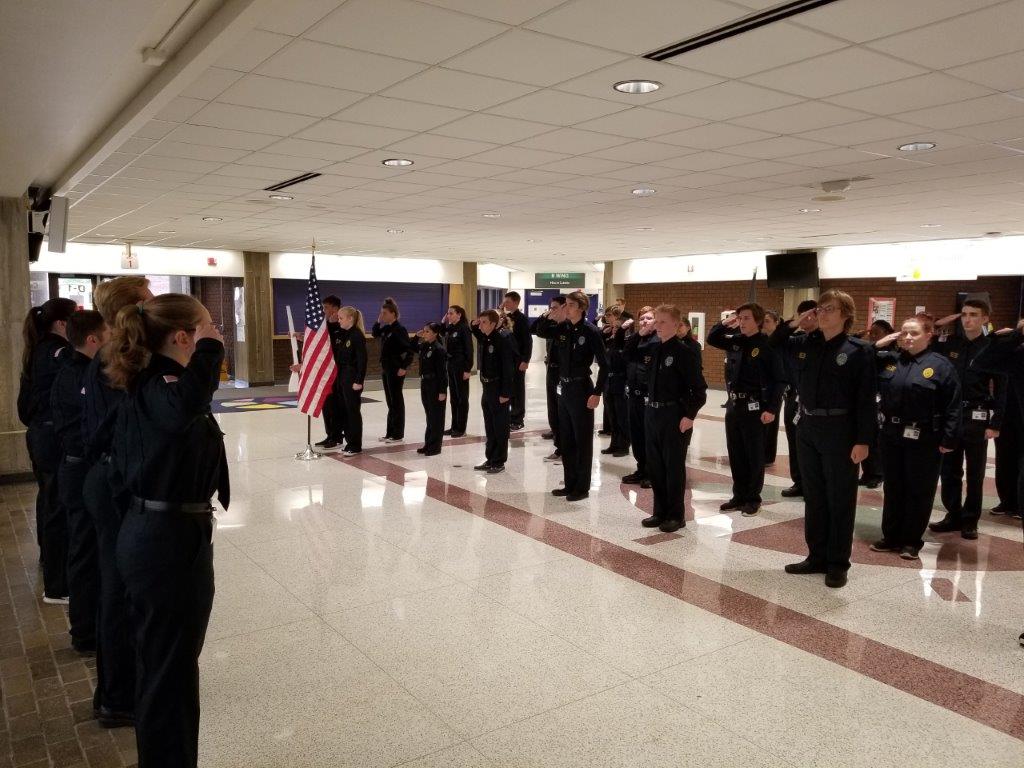 Flag Ceremony
Credit and Certifications
High School Credits
Students in our program are required to complete our Math requirements in Edify for both "A" year and "B" year. Students in our program can receive the following High School Credits:
Math: 1 Year - .5 Credit, Year 2 - 1 Credit

ELA: 1 Year - .5 Credit, Year 2 - 1 Credit

Science: 1 Year - .5 Credit, Year 2 - 1 Credit

World Language: 1 Year - .5 Credit, Year 2 - 1 Credit
A Year and B Year Subjects
The Criminal Justice Program at the Kent Career Technical Center is goal driven to provide the best program of study and training to ensure student success in our industry. Students are able to enroll in our program for either one year or two years. During a student's first year also known as our "A" year, students will learn all 12 segments. The segments include; Organizational Structure, Professional Standards including Ethics and Legal Responsibility, Safety, Health and Environment, Public Safety Branches, Law and Legal Systems, Public Relations, Career Development, Workplace Technology, Problem Solving/Investigations, Leadership and Team work, Communications and Applied Academic in Law and Public Safety. These segments fall under our courses named Introduction to Criminal Justice, Introduction to Law Enforcement Tactics, Introduction to Criminal Investigations and Introduction to Crime Scene Processing. These courses allow students to learn and challenge their skills, while being furnished with equipment from our industry and placed into scenario based training and crime scenes.
The second year of our program "B" year allows students to journey further into the Court and Correctional systems with the intent to obtain a deeper understanding of our criminal justice system. In this course, students are involved in mock court trials, correctional scenarios and field trips to correctional facilities and local courts which allows them to gain firsthand experience and process information at a more advanced level. "B" year students also take an Emergency Telecommunicator Course which has the potential to certify them as a police, fire or medical dispatcher.
All students are exposed to diversity training and extensive public speaking. Throughout the year all students participate in several community service projects. Including a hat and mitten drive, volunteering at local schools and fund raising for local charities.
Certifications
Students also become CPR, First Aid and AED certified during their first year along with the following Safe School Certification Trainings; Personal Protective Equipment, Bloodborn Pathogen Exposure, Eye and Face Protection, Back Injury and Lifting, Science Lab Safety, Science Lab Chemical Spills, Fire Extinguisher Safety, Classroom Safety, Conflict Management Student to Student, Crises Response, General Ethics in the workplace, Health Emergencies Choking, Heat Illness Prevention, Nutrition Basics, Online Safety and Cyber Bullying, Safety Basics for Security Staff and Stress Management.
College Credits
Depending on the college the student attends after KCTC depends on the number of articulated college credits a student will receive. The average is 6 college credits awarded, however a student is eligible to receive up to 21 college credits depending on the College or University. Students in the CJ program will also be enrolled as Ferris State University Students receiving 6 concurrent credits for Intro to Criminal Justice and Intro to Law Enforcement.