Parts and Service Manager Brad Kemerly
Hello I'm Mr. Kemerly,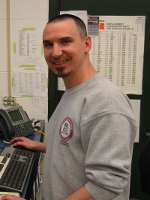 I have been the Parts and Service Manager at the Tech Center for 15 years.
I work with students and schedule the customer work for three programs:
· Automotive Technology
· Auto Body
· Diesel
Automotive Industry Credentials:
· ASE Certification P2 Automobile Parts Specialist
· ASE Certification C1 Automobile Service Consultant
Education Credentials:
· Studied at the Kent Skills Center.
Industry Experience:
· Worked as a technician and parts person in the Grand Rapids area for 10 years.
Other Interests:
· Camping
· Boating
· Off-roading
If you have any questions about the programs email me at BradKemerly@kentisd.org