Employer Job Board Instructions
Getting Started
If you have not already, start by filling out the Job Board Access form with your contact information and details about your organization.

If approved by Tech Center staff, you will receive an email that contains the link for the employer job board submission site and credentials to access it.
Once you have logged in, you will be taken directly to the "Add a Job Posting" page where you will enter all the post details that will be visible on the Job Board.
Please keep in mind that jobs posted to the job board should be local to West Michigan, relevant to one or more career programs offered at the Tech Center and appropriate to the skill level of our students who receive hands-on training and often certifications in their career area. Individual job posts may be denied or removed at the discretion of Tech Center Staff at any time.
On the "Add a Job Posting" page (image below), please fill out all required fields and include any information that will help students and alumni understand the nature of the position.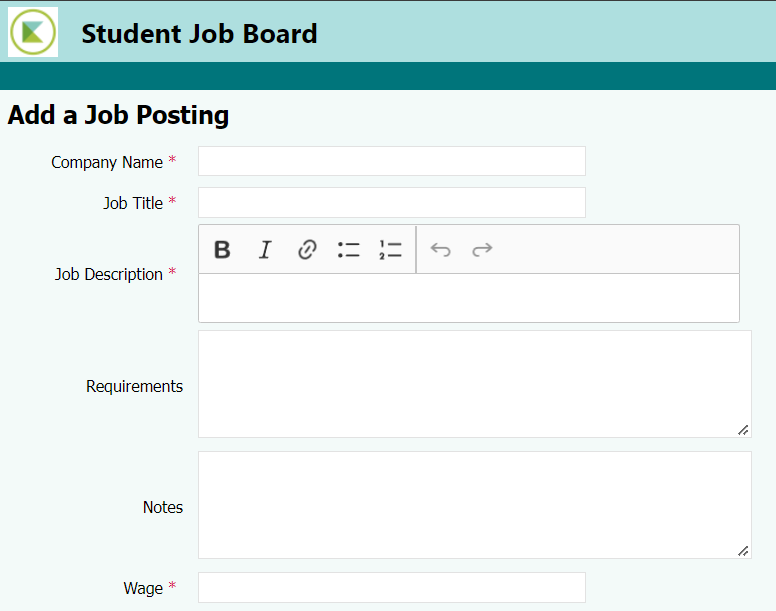 Adding Links to Online Applications
If you have a link to an online application or further job details, please add the link in the "Job Description" box using the link button as shown below:
Type a label for the link such as "online application", highlight the text and click the link button in the toolbar.

Copy and paste the full address in the link bar and click the green check mark (include https if applicable)


After Post Submission
Once you click "Submit" Tech Center staff will review your post and approve or deny your submission. If your job post is approved by Tech Center staff, you will receive an email from Jobboard@kentisd.org. Your post will remain active for 30 days or until the application deadline you selected. For jobs that remain unfilled or continue to have openings after the 30 day period, you must submit the posting again.
KEEP YOUR POST APPROVAL EMAIL for your records: In order to make changes to your job post you must use the specific "Maintain Job Post" link in this email.
Do not reply to the approval; email you receive or message Jobboard@kentisd.ogr directly. If you have questions or concerns about your post, please reach out to KCTC-WBL@kentisd.org.