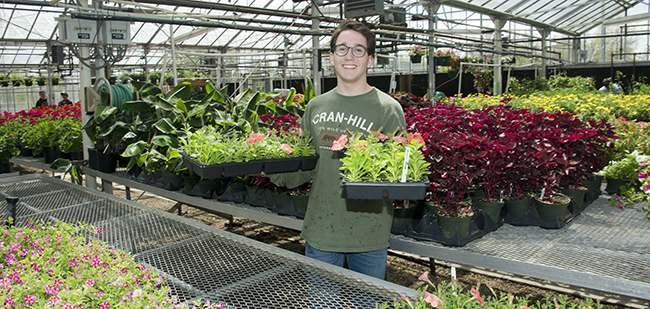 Students Serving the Public
The Tech Center Marketplace is the collection of public services offered by our programs and available for you for a modest fee. Actual customer experiences help students as they learn to become professionals in their fields. Using these services also provides a great way for the community to connect with Tech Center students. It's fun to interact with our students!
Please be aware that these services and products are available on a limited basis because they must fit into the lesson plans and calendar of our programs. We hope you will be patient with us and ask that you always call the program to confirm the availability of the service you are interested in.
Current Marketplace Participants

Culinary Cafe
From our Hospitality and Culinary Program
The Cafe offers breakfast or lunch on alternating semesters. Both the food and the service are completely provided by our students, under the direction of our instructors. The menu features entrees, soups, sandwiches and salads. Call ahead for reservations.
Contact: Marylou Atchison 616.364.8421 x2712
Bake Shop
From our Hospitality and Culinary Program
Our student bakers make doughnuts, cookies, brownies, tarts, rolls and more to sell in our shop - if you can beat the other students to the register!. Limited special orders, such as birthday cakes, may also be available. Call ahead for a list of available goods or to place a special order.
Contact: Marylou Atchison 616.364.8421 x2712
Auto Maintenance
From our Automotive Technology Program
Brake checks, suspension, steering repairs and electrical issues are some of the services our automotive students provide to help maintain customer cars. Call to make an appointment
Contact: Brad Kemerly 616.365.2381
Auto Repair
By our Auto Collision Repair Program
Get a dent or have some paint flaking? These students can make minor repairs so your car will look as good as new. Call to make an appointment.
Contact: Brad Kemerly 616.365.2381
Flowers & Decor
By our Sustainable Agriscience Program
Known for great plants in the annual Spring Flower Sale, students grow plants year-round in our greenhouse. Arrangements for a variety of holidays are available and limited special orders may also be available. Schedule varies by season, call for information.
Contact: Heather Pratt 616.364.8421 x2475