HOSA
This group of HSECA students placed in the Top 10 at the State of Michigan HOSA competition held March 22 - 23 at the Amway Grand Plaza in Grand Rapids, Michigan. They competed in the Medical Innovation - Exisiting category. A collaborative effort between students in the HSECA programs.

Record Breaking Regional Competition
Friday, December 8, 2017 saw 7 gold medals, 6 silver medals, 1 bronze medal and 6 top 10 place wins for students in the HSECA programs at the regional Health Occupations Students of America competion. The competition took place at Kalamazoo Valley Community College.
1st Place Gold Medal
Isabel Albaitis - Nurtrition Knowledge
Hannah Alveshere - Medical Reading
Sara Bergeron - Home Health Aide
Trinh Nguyen - Medical Math
Erica Bernal, Nadia Raei - Health Career Display
Samantha Carmean, Kameron Malmstrom, Madelyn Schrot - Medical Innovation/Improve Existing
Ja'nae Matthews, Danielle Rhodes - Medical Innovation/Original
2nd Place Silver Medal
Yasmin Alemayehu - Researched Persuasive Writing and Speaking - Peanut Allergies
Nicole Humes- Home Health Aide
Erin Mingerink - Behavioral Health
Halie Stuhlmann - Medical Reading
Taylor Weber - Home Health Aide
Larica Brown, Jasmine Joseph - Medical Innovation - Improve Exisiting
3rd Place Bronze Medal
Maria Donahue - Biomedical Laboratory Science
10 Ten Placement
Anna Caldwell - Medical Reading
Betsy Freye - Medical Terminology
Daniela Guzman - Medical Reading
Lauren Harmon - Health Career Display
Marijane Morse - Nursing Assistant
Hannah Wolford - Health Career Display
Congratulations
HOSA STATE TOP 10
Medical Reading 8th Place
Hannah Alveshere
Medical Innovation Existing 7th Place
Kameron Malmstrom
Samantha Carmean
Carli Millar
Mady Schrot

Past HOSA National Competitors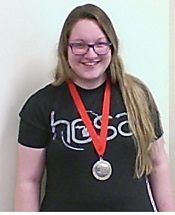 2015 State HOSA
Gold Medal Winner
Medical Spelling

2012 State HOSA
Gold Medal Winners
Medical Reading