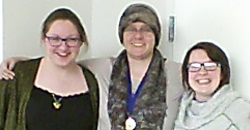 HOSA
HEALTH OCCUPATIONS STUDENTS OF AMERICA
The purpose of the HOSA organization is to develop leadership and technical HOSA skill competencies through a program of motivation, awareness and recognition, which is an integral part of the Health Science Education instructional program.
The 2015 -16 Regional HOSA competition took place a Kalamazoo Valley Community College in January, 2016. Students from the HSECA programs competed in a variety of events against career technical education students from other Health Occupations programs in our region. Students that placed in the top 10 for their event are eligible to advance to the State competition in Traverse City, April 15 and 16, 2016. The HSECA students headed to the State competition are:
Kenia Ivon Urena-Gonzalez (2nd place Regional Medal)
Arisbet Cardoza- Reauena (2nd place Regional Medal)
Kaitlyn Monson (3rd place Regional Medal)
Molly Ignasiak
Clara Bernal
Kaitlyn Rich
Jessica Calderon
Ittaty Aguilar-Guzman
Karely Sanchez
China Nuygen
Kibsy Ruiz-Silva
HSECA student advisors are Mr. Russ Walsteadt (BioMedical Technology program) and Mrs. Donna Clinton-Sanders (Therapeutic program).
HSECA students are encouraged to select from the Health Professions Category, Health Leadership Category or Health Science events.
Popular events: Medical Reading, Job Seeking Skills, Epidemiology, Nursing Assisting, and Clinical Specialty.