Health Early College Academy
About Health Sciences Early College Academy
Get real healthcare experience and free college credit in actual healthcare settings! You could be on your way to becoming a geneticist, biomedical engineer, doctor or whatever healthcare career is right for you. If you'll be a high school junior or senior with a minimum 3.0 GPA and some math and science background, this could be just the program for you. Contact us at 616.447.5671 or email hseca@kentisd.org.

Therapeutic Healthcare Professions - Downtown Market


Check patient vital signs including blood pressure, pulse and respiration

Develop a care plan for an actual patient by interacting with them and reviewing their chart 
Practice wound care and put casts on "patients," place and remove sutures and staples
Diagnostic Healthcare Professions - Downtown Market


Perform live blood draws

Practice diagnostic tests using sonography and electrocardiograph equipment

Perform microbiology to grow and study bacteria and learn about new suberbugs
Biomedical Technology - GVSU's Cook-DeVos Center


Dig into cell structure and function while working in a GVSU lab
Isolate DNA and study new technologies in genetics using elecrophoresis
Mutate, grow and study micro-organisms for pharmaceutical use

Key Highlights for all Locations


Enroll in college and participate in college coursework, while you're still in high school

Earn up to 6 free college credits each year - up to 12 credits after two years!
program fall open house dates
for 2018-19
Biomedical Technology Program
October 26, 2018
5:30 - 7:30 PM
GVSU Cook DeVos Center for Health Professions
301 Michigan Street N.E.
Room 477
Diagnostic and Therapeutic Programs
October 23, 2018
5:30 - 7:00 PM
Grand Rapids Downtown Market
435 Ionia Avenue SW
entrance on 109 Logan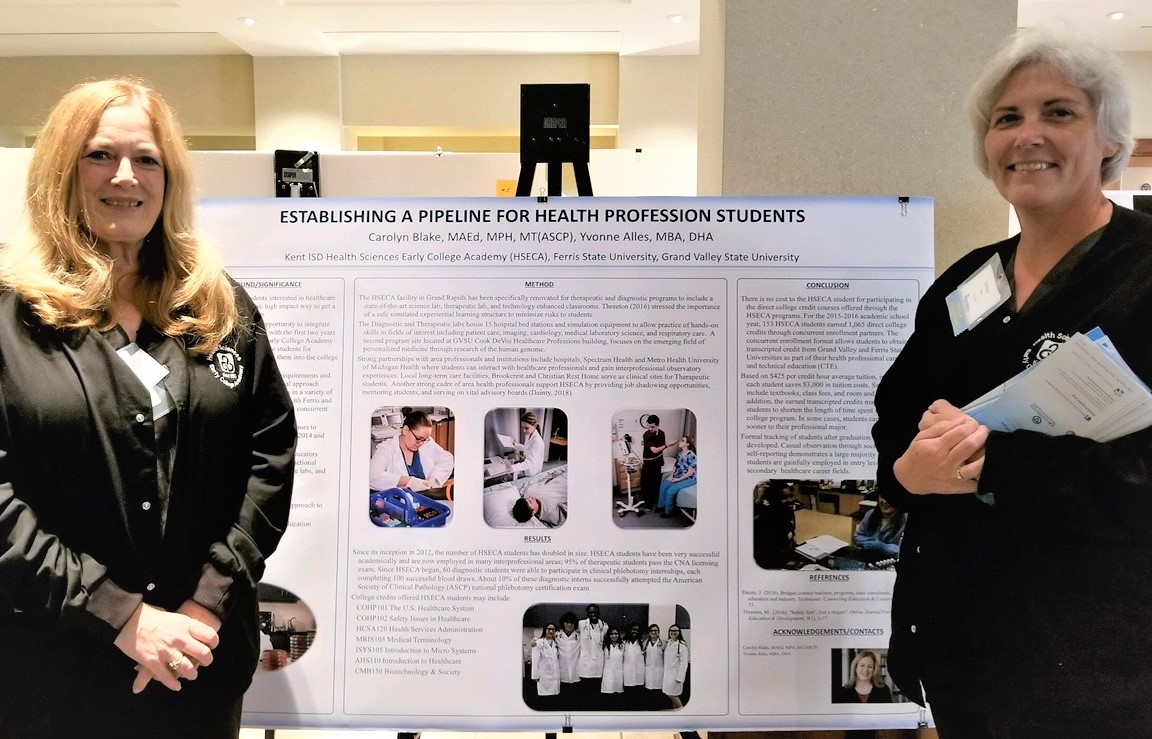 HSECA Program poster presentation
Midwest Interprofessional
Practice, Education,
and Research Center
Conference held at
GVSU - September, 2018
"Establishing a Pipeline
for Health Profession Students"